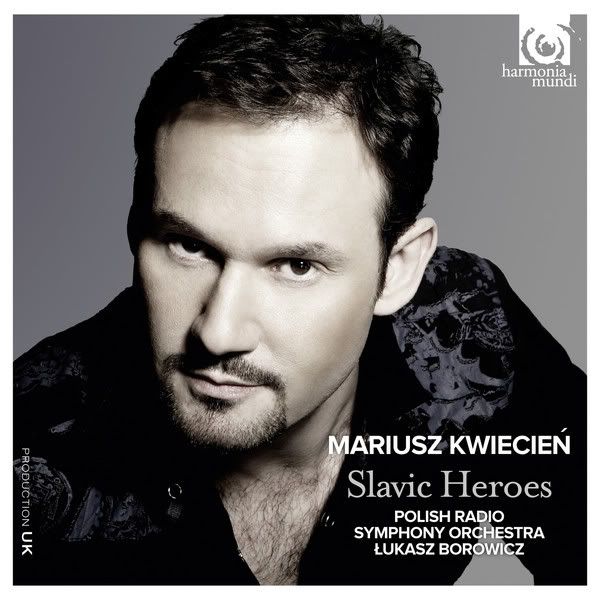 Genres: Classical, Music, Opera
Released: Nov 28, 2011
℗ 2012 A Polish Radio Production
❤Album Review:
This is Mariusz Kwiecień's first solo album' which may come as a surprise given that the handsome Polish baritone is already a star on both sides of the Atlantic. Discussion of his work has tended to focus as much on his looks and acting ability as on his voice. Without the visuals, we are able to focus entirely on his singing, which reveals a few weaknesses as well as great strengths. The basic sound – a mix of grit and velvet – is immensely appealing, though there are moments of constriction in his upper registers, and an occasional pulse in his tone. On the plus side, he has a remarkable ability to colour his voice to suit each character, so that Borodin's Prince Igor, thinking of his wife on the eve of battle, sounds very different from Rachmaninov's Byronic Aleko, teetering on the edge of self-destruction. Tchaikovsky's Eugene Onegin, and Szymanowski's King Roger have become Kwiecień's calling cards of late: you can hear why in his beautifully self-deceiving treatment of Onegin's rejection of Tatyana, and in the ecstatic hymn to the sun with which Szymanowski's opera closes. There's no-nonsense conducting from Łukasz Borowicz and passionate playing from the Polish Radio Symphony Orchestra.
❤Track List:
01. Tchaikovsky: Eugene Onegin, Op. 24, Act 1, Scene 2: No. 18 "Vy mne pisali" (Onegin)
02. Tchaikovsky: Iolanta, Op. 69: No. 5 "Kto mozhet sravnitsa S. Matil'daj majej" (Robert)
03. Rachmaninoff: Aleko, TN II No. 70: No. 10 "Ves' tabar spit" (Aleko)
04. Smetana: Čertova stěna (The Devil's Wall), JB 1:122, Act 1: "Jen Jediana" [Vok]
05. Moniuszko: Halka (Helen), Act 2: No. 8b, "Pewna, jak wiatr wzdycha" [Janusz]
06. Tchaikovsky: Mazeppa, Act 2, Scene 2: No. 13, "O Mariya, Mariya!" (Mazeppa)
07. Šelma sedlák (The Cunning Peasant), B. 67, Op. 37, Act 1, Scene 10: "Kdo jest, jenž slovy
08. Moniuszko: Straszny Dwór (The Haunted Manor), Act 2, Scene 4: "Kto z mych dziewek serce której" [Miecznik]
09. Sadko: No. 4 "Gorod kamennyi, gorodam vsem mat?" (Venetian Guest)
10. Tchaikovsky: Yevgeniy Onegin, Op. 24, Act 3, Scene 1: No. 21a "Uzhel' ta samaya Tatyana" (Onegin)
11. Moniuszko: Verbum Nobile The Word of a Nobleman): "Nakaż niech ożywcze słonko" [Come, Let Envigorating Sun] [Michal]
12. Knyaz' Igor' (Prince Igor), Act 2: No. 9 "Ni sna, ni otdyha izmuchennaj dushe" [Igor]
13. Szymanowski: Król Roger (King Roger), Op. 46, Act 3, Final Scene: "Slonce! Slonce!" [Roger]
Digital Booklet
下载地址